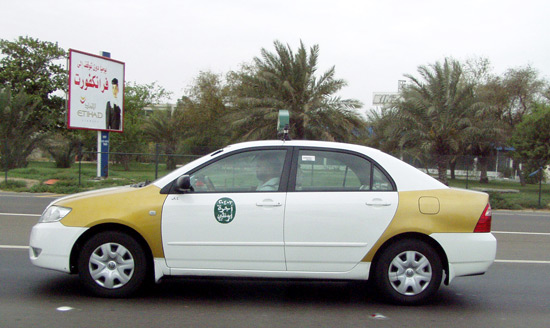 Plentiful taxis are a convenient way to get around this congested city. You can usually hail one on the street anywhere in Abu Dhabi. At malls and shopping centers, hire one from a taxi stand. Taxis offering long-distance service to other emirates are available at the main bus station, which is located at Al Muroor and Defence roads.
Fares for all types of taxis start at Dhs3.50 and increase by Dhs1.60 per kilometer. Night fares (22:00 until 06:00) are slightly more: Dhs4 to start, and Dhs1.69 per kilometer thereafter. The fare from the airport into the city should cost between Dhs60–80. While all newer taxis use meters, drivers of the older taxis may opt to negotiate a fare instead of using the meter. By 2012, the city's older gold and white taxis will be phased out for newer, silver vehicles. The city also has pink taxis, which are reserved for women and their children under the age of 10.
Most taxi drivers speak Arabic, English, Urdu, and Filipino. Visitors to Abu Dhabi should note that citizens and residents, including taxi drivers, are more accustomed to giving directions using landmarks than street addresses. Knowing landmarks near your destination will be very useful.
Taxis in Abu Dhabi are regulated and monitored by the Center for Regulation of Transport by Hire Cars (TransAD). The organization's hotline is [971] (2) 600 535353.
Learn about TransAD at www.transad.ae .