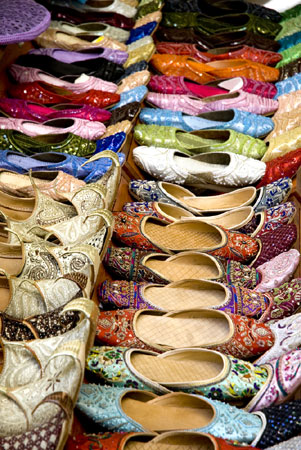 Sadly, many of Abu Dhabi's traditional souqs have gone the way of the dodo. On the other hand, you'll still find plenty of small boutiques selling old-world goods such as spices, perfumes, carpets, and ceramics. In similar, family-owned workshops, tailors can create suits for you for great prices. The city also boasts a handful of fine, high-tech shopping centers such as Marina Mall. Shopping tourists come from all over the world, partially because of the airport's duty-free complex, one of the best on earth.
Emiratis shop day and night Abu Dhabi, meaning that most establishments remain open from 10am–10pm Only in smaller markets and stores will you have to bargain; everywhere else ought to have fixed prices. The clerk who will follow you around the store has two purposes: he's trying to provide what's thought of as good service here, and two, he's trying to prevent shoplifting, which is a bit of a local problem.
---
Major Shopping Districts
Hamdan Street
Abu Dhabi's social elite heads here to browse luxurious jewelry showrooms for gold, pearls, and diamond products; Western fashion outlets; and expensive perfumeries. Hotels such as the Sands incorporate mini-malls.
Ras al-Akhdar
Against a backdrop of cruising dhows and crystal-blue Gulf waves, the southwest promontory offers all manner of tribal and old-world shopping options. The Iranian Souk near the Dhow Harbor sells authentic Persian rugs, incense, and souvenirs. At the Emirates Heritage Village you can admire the craftspeople hard at work carving, weaving, and stitching before you purchase their products. The Marina Mall contains traditional perfumeries such as Grand Stores and a great food court where you can take a lunch break from your frenzy of consumerism.
The Corniche
This awe-inspiring beach walkway also houses some of Abu Dhabi's finest traditional rug emporia. Craftsmen here create rugs in Arabian, Persian, and North African styles using techniques that have barely changed in centuries. As a result, this shopping district tends to be popular with tourists keen to snatch up a bargain.
---
Retail Outlets
Fashion and Design
King Star Textiles
Traditional women's clothing
Madinat Zayed Shopping Center, first floor
Abu DhabiTel: [971] (2) 634 9122
OK Furniture
Sheikh Zayed First Street
Abu Dhabi
Tel: [971] (2) 678 4553
Web: okfurniture.com/index.php
Rakbak
Perfumes
Heirs of Hussain Ali al-Omairah Building
King Khalid bin Abdel Aziz Street, 
Abu Dhabi
Tel: [971] (2) 213 0000
AD Performance
Jewelry
Musssafah Industrial Street, Store #56, 94955
Abu Dhabi
Tel: [971] (2) 555 1489
Web: www.ad-performance.com   
Jumbo
Souvenirs and gifts
Hamdan Street
Abu Dhabi
Tel: [971] (2) 632 7001
Web: www.jumbocorp.com
Emirates Divers Center
Diving equipment and accessories
31 Meena Street
Abu Dhabi
Tel: [971] (2) 643 2444
Web: www.emiratesdiving.com
Itqan
Antiques
Near Tourist Club Area
Arab Monetary Fund Building, fifth floor
Abu Dhabi
Tel: [971] (2) 634 9999
Noukies
Children's toys and gifts
Marina Shopping Mall
Corniche Street
Abu Dhabi
Tel: [971] (2) 681 0844
Web: www.noukies.com
Etoiles
Heritage arts and crafts
Emirates Palace Hotel
Corniche West
Abu Dhabi
Tel: [971] (2) 690 9000
Web: www.emiratespalace.com
The Souk at Qaryat Al Beri
Traditional market
Between Maqtaa and Musaffah Bridges, next to Shangri-La Hotel
Abu Dhabi
Tel: [971] (2) 558 1670
Web: www.soukqaryatalberi.com
Al Jamal Curtains
Curtains
Airport Road, Near SKMC Hospital
Abu Dhabi
Tel: [971] (2) 828 2523
Emirates Home
Housewares
Hamdan Road, behind Rainbow Streak
Abu Dhabi
Tel: [971] (2) 632 2253
Food and Beverages
Jones the Grocer
Local sweets and delicacies
Al-Mamoura Building B, Ground Floor 06/07
Muroor Road at 15th Street
Abu Dhabi
Tel: [971] (2) 44 38 762
Web: www.jonesthegrocer.com
United
Exotic spices
Shahama Old Quarter
Abu Dhabi
Tel: [971] (2) 503 9999
Bookstores
Jashanmal
Independent English-language bookstore
Abu Dhabi Mall
Tenth Street
Abu Dhabi
Tel: [971] (2) 644 3869
Web: www.jashanmalbooks.com