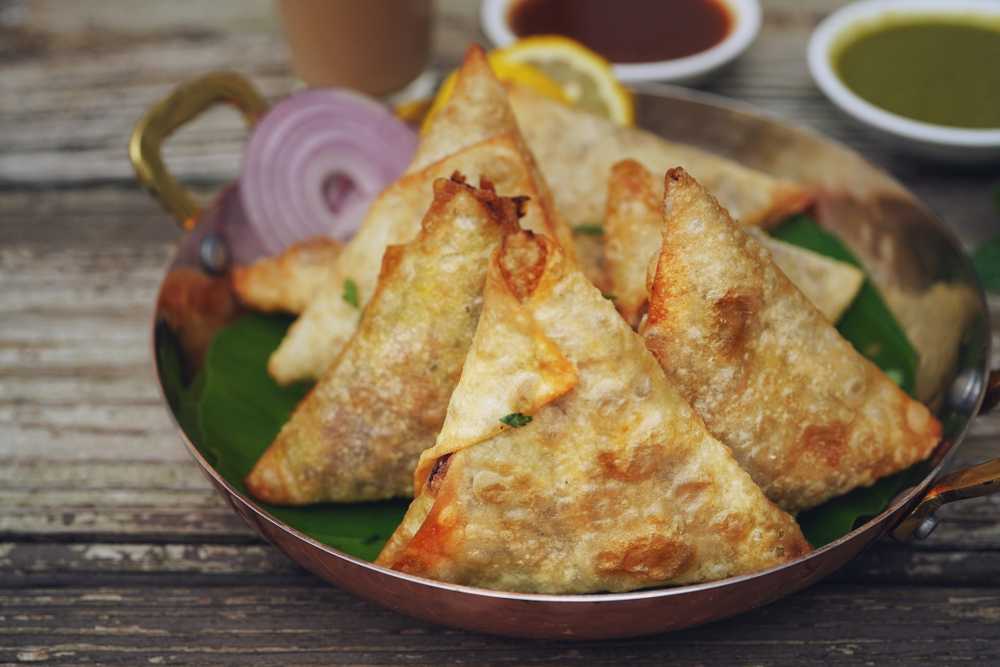 Fried triangular pastries are an Indian import, but are a typical appetizer and snack in the Emirates. Common ingredients include onions, potatoes, peas, and a variety of spices and herbs. The standard Emirati version is stuffed with beef or lamb. Recipe Serving: Serves 10
Prep Time 20 minutes
Cook Time 1 hour 35 minutes
Total Time 1 hour 55 minutes
Vegetarian
Vegan
Gluten Free
Dairy Free
Kosher
Halal
Ingredients
Filling:
2 1/2 lb (1.1 kg) beef, finely chopped
2 lb (1 kg) onions, chopped
2 bunches coriander leaf, chopped
2 cloves garlic, minced
2 tsp (10 ml) loomi (powdered dried lime)
2 chilies, minced
1 Tbsp (15 ml) bezar
1 Tbsp (15 ml) turmeric
1/2 tsp (2 ml) cinnamon
1/2 tsp (2 ml) cardamom
1 cup (240 ml) peas
Salt to taste
Pastry:
2 cups (480 ml) flour
1/2 tsp (2 ml) salt
1/4 cup (60 ml) oil
1/3 cup (80 ml) water
Oil for frying
Directions
Combine flour and salt.
Add oil, and rub together until combined.
Add water a little at a time until a firm dough forms.
Knead until smooth, about 10 minutes.
Oil the dough, cover with a damp, lint-free towel, and set aside.
In a heavy saucepan, heat a little oil. Add onion and sauté until translucent.
Add meat and sauté until cooked through. Set aside to cool.
Boil peas in water to cover until cooked through. Set aside to cool.
When meat and peas have reached room temperature, combine all filling ingredients. Correct seasoning as needed.
Knead the dough a little, then divide into 10 pieces.
Roll each piece into a neat circle, and cut in 1/2.
Form 1 semicircle into a cone shape, sealing edge with water.
Place a spoonful of filling in the cone.
Fold over the top and seal edge with water, pinching carefully to make sure seams are completely sealed.
Repeat with remaining dough.
Heat oil in a deep, heavy pan.
Fry the pastries a few at a time until golden.
Drain and serve warm.