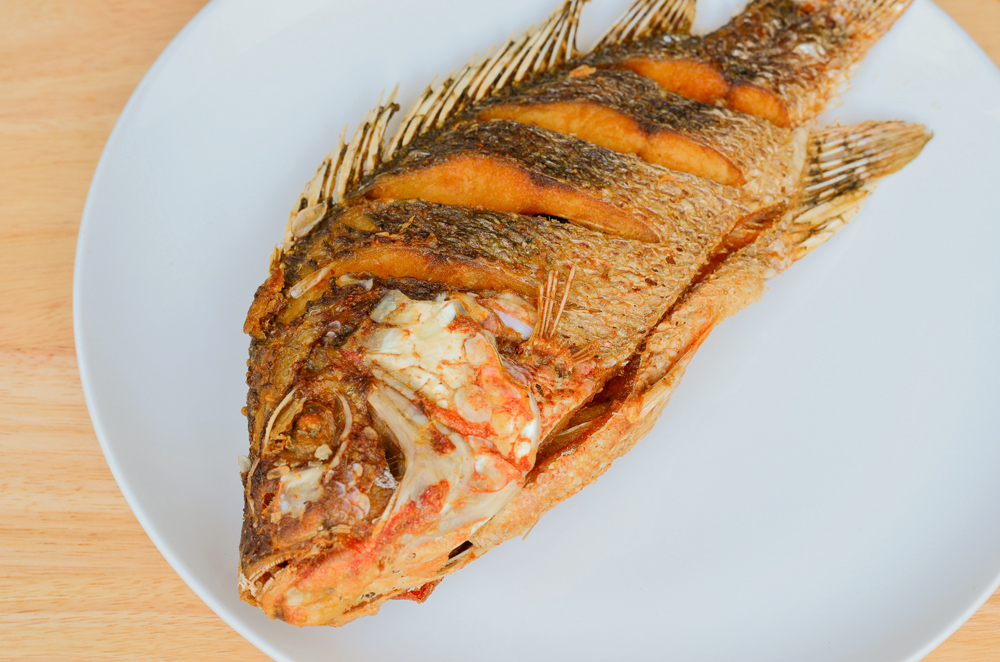 Samak magalee (makli) or fried fish is traditional Arab Emirate fare that has graced the region's dinner tables for centuries—and continues to do so with its ever pleasing combination of crispy fried skin and tender flesh subtly emboldened by spices. Fresh fish and delightful seasonings make for a magical combination. Samak magalee is served with steamed rice and a salad. Recipe Servings: Serves 4
Prep Time 1 hour
Cook Time 20 minutes
Total Time 1 hour 20 minutes
Vegetarian
Vegan
Gluten Free
Dairy Free
Kosher
Halal
Ingredients
1 2-lb (1 kg) whole fish, cleaned
1 tsp (5 ml) turmeric
1/2 tsp (2.5 ml) black pepper
1/2 tsp (2.5 ml) cumin powder
1 tsp (5 ml) coriander powder
2 Tbsp (10 ml) water
2 tsp (10 g) sea salt
3 Tbsp (45 ml) olive oil
2 Tbsp (30 ml) lemon juice
2 Tbsp (30 ml) chopped parsley
Directions
Make 3 diagonal slits on each side of the fish to help it cook more evenly.
Make a spice paste with turmeric, pepper, cumin, coriander, and water.
Rub salt, then spice paste all over the fish, including the cavity.
Let it marinate for 60 minutes.
Heat oil on medium high. Sauté fish, turning it over only once after 10 minutes (it's better to shake the pan than to risk tearing the skin).
Fry on the other side for 7–8 minutes. Cooked until the flesh flakes easily.
Drizzle with lemon juice. Serve garnished with parsley.