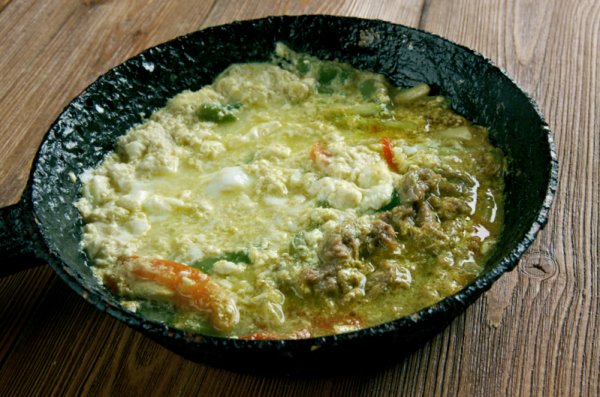 Murraq is an Arab stew that may feature lamb, chicken, or fish. The Emirati version is normally cooked with onions, garlic, and a variety of seasonings. This common dish is served hot with rice or bread, and is a favorite during Ramadan. Recipe Serving: Serves 8–10
Prep Time 25 minutes
Cook Time 2 hours 15 minutes
Total Time 2 hours 40 minutes
Vegetarian
Vegan
Gluten Free
Dairy Free
Kosher
Halal
Ingredients
1 lb (450 g) lamb, cubed
1/4 cup (60 ml) olive oil
3 onions, chopped
2 cloves garlic, crushed
3 Tbsp (45 ml) parsley, chopped
1 tsp (5 ml) cayenne
2 whole loomi (dried limes)
1 cinnamon stick
1 tsp (5 ml) turmeric
1 Tbsp (15 ml) bezar
1/2 lb (225 g) rice
1 1/4 cups (300 ml) boiling water
1 tsp (5 ml) salt
2 tomatoes, chopped
Directions
Heat oil. Sauté onions until browned.
Add garlic and spices, and sauté for a few minutes, taking care that the spices do not stick or burn.
Add meat, and sauté for a few minutes until meat is completely coated with spices.
Add boiling water, cover, and simmer about 2 hours, or until meat is tender.
Remove cinnamon stick and loomi before serving.
Serve hot, with rice.
Notes
Vegetables may be added after the liquid, including: up to 2 potatoes, peeled and cubed; up to 2 carrots, peeled and sliced; 1 bell pepper, seeded and chopped.