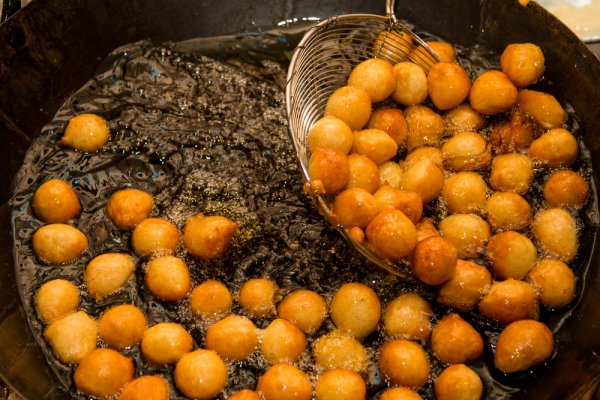 Lugemat is a popular everyday sweet in the UAE. A yeasted dough made of wheat and rice flour is fried and then soaked in a sugar or date syrup. Lugemat spiced with cardamom, saffron, and rosewater and with sugar in the dough is a popular Ramadan treat. Recipe Serving: Serves 8–10
Prep Time 25 minutes
+ 2 hours resting
Cook Time 2 hours 10 minutes
Total Time 4 hours 35 minutes
Vegetarian
Vegan
Gluten Free
Dairy Free
Kosher
Halal
Ingredients
Dough:
1 cup (240 ml) whole wheat flour
1 cup (240 ml) white flour
2 cups (480 ml) yogurt
1 Tbsp (15 ml) yeast
1 potato, boiled and mashed
Oil for frying
Sugar Syrup:
6 cups (1.4 l) sugar
3 cups (720 ml) water
1/2 Tbsp (7 ml) lemon juice
Pinch saffron
Directions
Sift together dry ingredients.
Add yogurt and knead into a smooth batter.
Cover with a damp towel and set aside in a warm place until doubled, about 2 hours.
For sugar syrup, combine all ingredients in a nonreactive saucepan and cook over low heat about 1 hour, until thickened.
When batter has risen, beat in mashed potato.
In a deep pan, heat oil for frying.
Drop spoonfuls of batter into the oil and fry until golden.
Remove and drain.
Pour sugar syrup over all before serving.
Notes
Date syrup to taste may be substituted for sugar syrup. Up to 1 1/2 tsp (7 ml) cardamom powder may be substituted for saffron in the soaking syrup. Up to 1/2 cup (120 ml) sugar may be added to the batter with the dry ingredients. Up to 1 tsp (5 ml) cardamom, 1/2 tsp (2 ml) saffron threads, and 1 tbsp (15 ml) rosewater may be added to the batter with the yogurt.