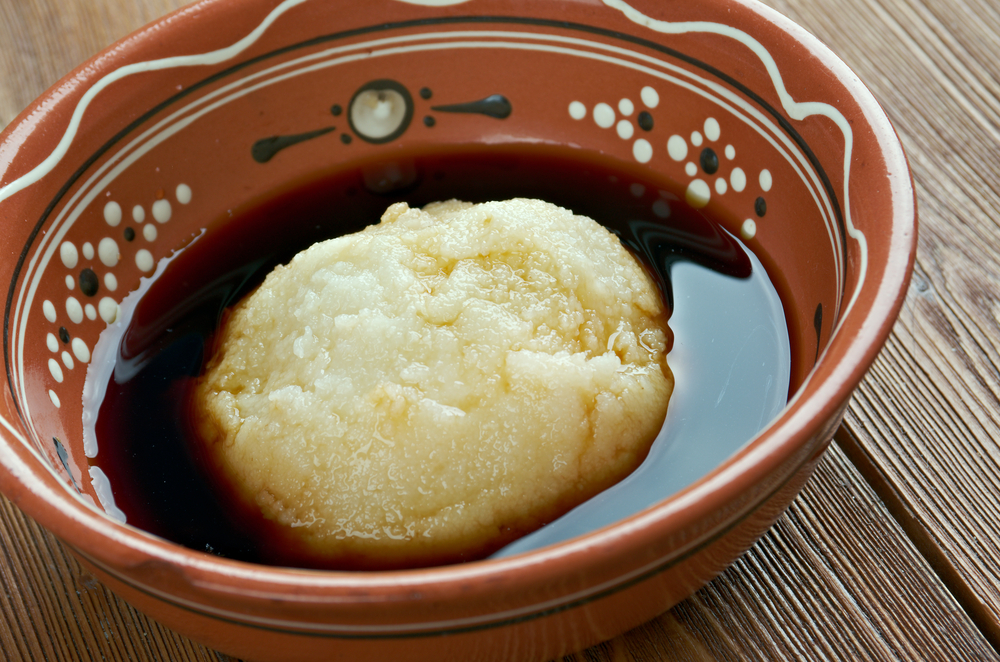 Aseeda is an Omani boiled wheat dish similar to thickened porridge. It can be served with a savory meat broth or as a sweet dessert with date syrup, honey, and butter. Aseeda was noted in a 13th century Hispano-Muslim cookbook, when lightly grilled barley and argan seed oil were its main ingredients. Aseeda is a special occasion dish honoring Eid, birth of a child, and for women undergoing labor. Recipe Servings: Serves 4 
Prep Time 15 minutes
Cook Time 30 minutes
Total Time 45 minutes
Vegetarian
Vegan
Gluten Free
Dairy Free
Kosher
Halal
Ingredients
3 cups (720 ml) water
6 Tbsp (90 ml) ghee
1 tsp (5 ml) salt
1 1/4 cups (300 ml) all-purpose flour
2 Tbsp (30 ml) date syrup
2 Tbsp (30 ml) honey
Directions
Bring to a boil 2 cups (480 ml) of water, salt, and 2 tablespoons (30 ml) of ghee.
Sift the flour into the liquid. Beat it with a wooden spoon into a smooth dough.
Add the remaining water. Bring it to a boil.
Simmer on medium-low for 15 minutes. Stir with wooden spoon for a smooth, sticky dough.
Place 1 tablespoon (15 ml) of melted ghee on a large serving dish.
Place the dough on the dish. Shape it into a ring with a hole in the middle, working from bottom to top.
Drizzle the remaining ghee over it and into the hole.
Spoon date syrup and honey around the ring.