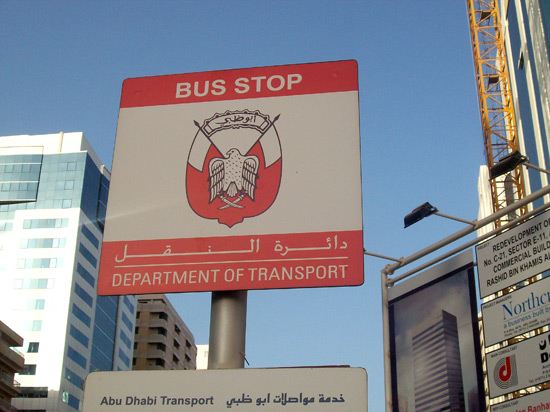 Due to tremendous population growth, the emirate's Department of Transportation launched a study called the Surface Transport Master Plan (STMP) in 2007. Significant expansion to public transit is being studied, including construction of a metro and three-line tram, and the potential additions of water taxis and light rail by 2030.
Bus
The emirate has only had a public bus system since 2008. The system serves the city and suburbs of Abu Dhabi, as well as the cities of Al Ain and Madinat Zayed. The 12 bus routes serving the city of Abu Dhabi operate mainly in the Tourist Club area, along the Corniche and Zayed First Street, and to and from Marina Mall. More than 1,300 buses operate from 05:00 to midnight during the week and until 02:00 on the weekend. One trip costs Dhs2 (2 Emirati Dirhams). Purchase an Ojra weekly pass for Dhs30 or a monthly pass for Dhs80.
The main bus station is located at Al Muroor and Defence roads. Note that the sideways-facing seats in the front of each bus are reserved for women.
Read more about the Surface Transport Master Plan at the Department of Transport's website, www.dot.abudhabi.ae.
Learn more about transportation in Abu Dhabi at www.abudhabi.ae.